SSK
DESIGN ENGG About us:
SSK Delta Design Engineering Private Limited mainly focus the business on supply and services of automation products to industry as well as domestic. We have highly skilled engineers having more than decade of experience on Oil & Gas, Pharma, Chemical, and downstream products. This enables us to provide reliable, robustic and cost effective solution to our customers.

Our activity includes from the selection of control system, review of P&ID, generation of I/O list, developing control philosophy or boolean logic diagram based on the P&ID or Cause and Effect Matrix, generation of control system's Bill of Materials, procurement and building the system/marshalling panel, implementation of control strategious in the PLC/DCS, developing graphic and validating the implementation, conducting FAT and SAT and site commissioning services.

We have well experience engineers on the majority of the below listed well known control systems:

1. Emerson DeltaV/Ovation DCS.
2. Allen-Bradley PLCs (Micro-Logix, SLC-500 series, Compact & Control Logix)
3. Siemens PLCs (S7 200, 300 series)
4. Ge-Fanuc PLCs (90-30)

It is verymuch possible by us to support any of the above said control systems exists in any kind of plant. We can supply any of the above said products to meet the customer requirements.

We are one of the authorised distributer of xLogic PLC in india. We can be very much cost effective if your project requires nano/micro level PLCs. We have extensively worked on GSM/GPRS/RTU products/web services which help us getting the plant or office data into customers mobile or home PC.


Providing solution to the customer problems/requirements is our prime strength and goal...............................................................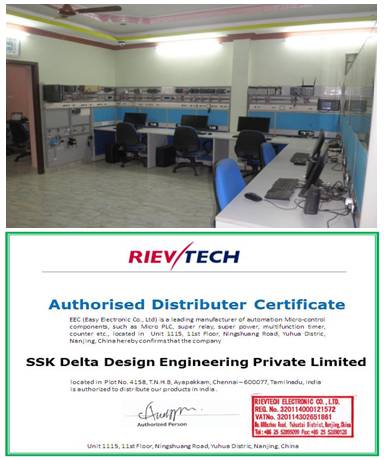 PLOT NO: 4158, FIRST FLOOR, T.N.H.B, AYAPAKKAM, CHENNAI - 600077, TAMILNADU, INDIA. CONTACT PH.NO: 9840292883; CLICK CONTACT TAB FOR MORE